Vacuum System Construction
The heart of our business involves the design and project planning of plug and play vacuum systems for special applications in the process industry. Jointly with our customers we review the process and recommend the vacuum pump or vacuum pump combination which in our opinion best suits our customer's needs in each case.
For the design of the vacuum systems, EDP supported programs are being constantly further developed. These programs together with the experience of our project engineers are the basis for our precisely tailor-made solutions.
Standard regulations like RL2014/34/EU (ATEX), TA Luft (German Clean Air Act , AD 2000 or also ASME, etc. are of course observed and worked off in full during the planning process. Measurement and control engineering, fittings according to customer specifications or recommended by us as well as the manufacture of vessels, piping and steel constructions, complete our systems.
Design drawings are drawn up by our engineering department in three-dimensional views and made available to our customers by way of common file formats.
All vacuum systems like Roots vacuum pump systems and package units, for example, are manufactured in our own production facilities. Before delivery, our products are subjected to extensive test runs for the purpose of ensuring their quality. The test logs are part of the documentation in accordance with the Machinery Directive. For smooth commissioning of the vacuum system we offer comprehensive on-site support.
Our services include professional repairs in our factory and also on-site by our after sales service.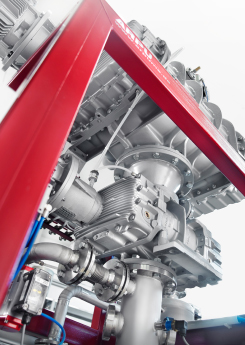 Non-vacuum system construction
Our service: System construction according to your specifications
Manufacturing and assembling
The system is designed by you and you need a welding company with experience in system construction? We manufacture pipelines and containers according to the highest quality standard and thus complete your provided components into a unit. Upon request, we will be happy to contribute our extensive experience in the integration of a wide variety of materials to the design of the system.
If you do not provide the components, our technical purchasing department will be happy to procure the components according to your specifications.
Quality and deadline control
Permanent quality controls and deadline controls are built into our development and production process. In this way, possible delays and quality defects can be identified and avoided at an early stage. After completion, all systems are carefully checked again in-house before delivery. The test report is part of the documentation.