Roots vacuum pumps, also known as booster pumps, are suitable for compressing large volume flows with low power requirements.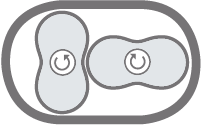 They extend the pressure range of other vacuum pump types or replace mass flow compressors such as steam jet vacuum pumps. Roots pumps are available with a pumping speed of up to 15,000 m³/h. Since Roots pumps can only generate relatively small pressure differences in the fine and rough vacuum range, they are operated together with so-called backing pumps. Depending on the operating point, Roots pumps are combined into multi-stage units, taking into account the gradation.
The design of multi-stage Roots pumping stations, taking into account the ideal backing pump, is one of the main fields of activity of Arpuma GmbH. We will be happy to help you select the right pump for your application.